To what extent are reputational risks different from other corporate risks, and how should they be handled?
Reputation- vs corporate risks
Reputational risks are similar in many ways to other business risks, but they are distinguished by two key features:
Reputation risks can not be transferred and remain the full responsibility of the Management Board and the Supervisory Board

Depending on the response to a reputation crisis, the reputation can be further damaged or even improved.
While there are certain insurance companies that offer products for reputational risk, these typically do not cover the full impact of a reputation crisis on the business. The reason for this is that the impact of reputation crises is very complex and it is impossible to predict the full financial impact with sufficient accuracy. Reputational risks are also considered a "mega risk" or "risk of all risks" due to their potential scale, complexity and difficulty in transferring them to external institutions.
Reputational risks are measurable and manageable
With sophisticated research and analysis methods, we are now able to identify areas of high reputational risk that enable predictive management of mitigation strategies and the development of crisis response plans. High priority reputation risks exist in areas where there are exaggerated expectations on the part of strategically important stakeholders that the organization can hardly fulfill.
Reliable and proven methodology
Only credible high-priority reputation risk detection methods will enable companies to be adequately prepared and therefore able to respond to a reputational crisis in a differentiated manner that demonstrates the values of the organization.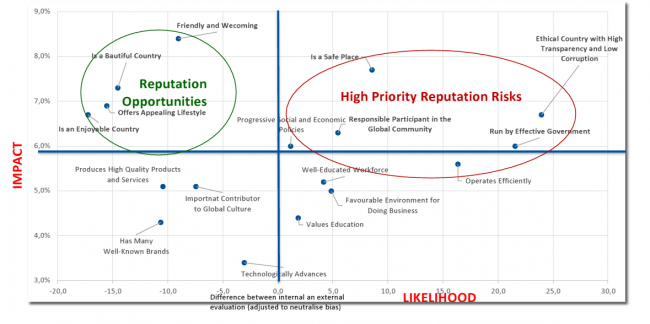 Reputation managers have to ask themselves these questions:
About which aspect of our organizations do external stakeholders have expectations that could be disappointed in the foreseeable future?

What aspects of the organization are crucial to the way external stakeholders relate to the organization and how they support them?

Do we have appropriate mitigation strategies in place to ensure that stakeholder expectations in areas of high reputational risk are met?

Are we ready to respond to a crisis in a high reputational risk area so that our corporate values are actually lived?
Dr Dominik Heil
Cranfield School of Management
More blog arcticles
Vortrag "Lost in Transformation!?", von Reinhold Poensgen: Warum #Transformations_Projekte besonders häufig scheitern & wie aus rat- und hilflosen Beteiligten (Stakeholder,…
mehr